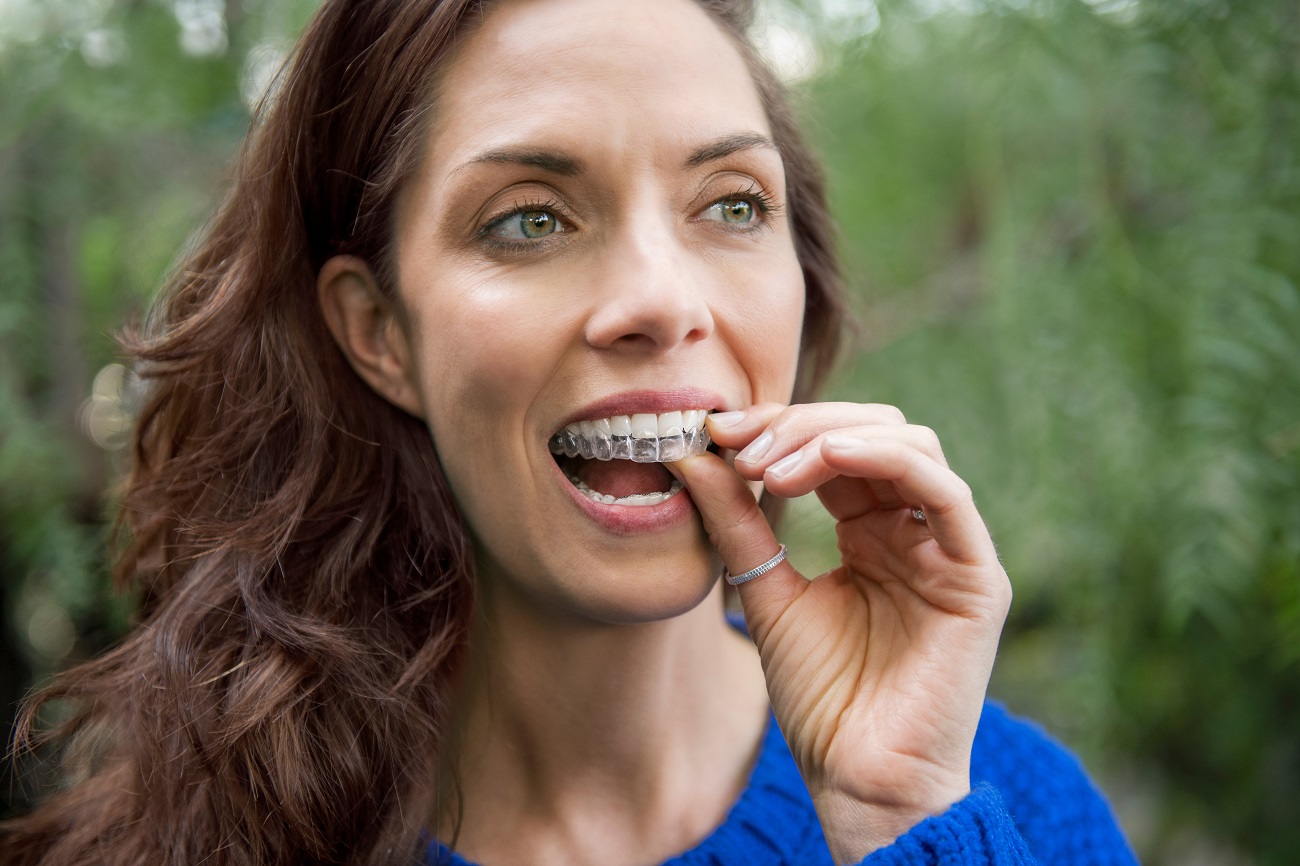 You might have heard us mentioning Invisalign as a straightening treatment for teeth to help you get that smile you've always wanted, but that doesn't really give you a whole lot of information, does it?!
Of course, there is more information on our Invisalign website page but we thought it might be useful to know what to expect and what the process is if you decide that Invisalign is the best option for you (with our help, of course).
So, What Is It?
When people think of braces, they think of the traditional silver ones that permanently run along the top and/or bottom rows of teeth. However, unlike these, Invisalign has no metal brackets or wires which can also mean less time spent having them adjusted.
This treatment has been designed with busy people in mind; those who don't have the time to stop and let treatments affect their day to day lives. It is removable, invisible and comfortable and can take as little as 6 months to finish the whole treatment (in fairly simple cases).
How Does It Work?
You'll receive individual aligners, which look like clear mouth guards which you'll have to change every week.
These aligners move the teeth with appropriate placement of controlled movement, but they don't only control the amount of movement per aligner but also the timings of the movements too. This means that only certain teeth are allowed to move at their correct stage during the treatment.
The aligners have to be worn no less than 22 hours per day, but you have to remove them when you eat or drink anything except when drinking cold water. Obviously, the rules and guidelines will be explained by us, your Invisalign dentist, but it is so important to adhere to them otherwise your treatment could take longer than initially planned or you may not get the results you hoped for.
The Process
Step 1 – The Consultation: The first step of course is to book your initial consultation to find out all the information you need and to find out if Invisalign is the right course of treatment for you.
In this initial consultation you'll be able to discuss what problems and dislikes you have with your smile and your dentist will take a look at your teeth to see which teeth straightening options are best for you.  You may also have an x-ray done of your teeth too.
We also go through what the cost of your treatment would be and the payment options available. If you think it might be out of reach financially for you, don't panic as we do offer payment plans which can be found on our Prices page but again can be discussed at the appointment.
After this consultation, you can let us know if you would like to go ahead with the treatment and then we can move onto Step 2…
Step 2 – Impressions: The next appointment involves taking impressions of your teeth, also known as moulds and these are sent off to the Invisalign team who use them to create a digital representation of your teeth. Using this impression plus advice from us and their special software, they will design your personalised Invisalign plan.
Step 3 – ClinCheck: This "virtual" treatment plan comes back and we will take you through it, step-by-step to double check you're happy with the plan. You'll also get to take a look at what your teeth will look like at each stage…including the final result! Our patients find this really fascinating!
Step 4 – The Aligners: Once we give the go-ahead, your custom aligners are made by Invisalign. There is usually one aligner for every week of treatment, so how many you will need will depend upon your length of treatment. As I said previously, it is important they are worn for around 22 hours a day and only really removed for eating and drinking (apart from water).
You'll have an appointment to have the first set of aligners fitted and we can show you how to put them in and take them out.  We will also attach small tooth coloured attachments to some of your teeth so that the aligners clip correctly into place.  The amount and placement of these will depend on your treatment plan.
Step 5 – Checking In: We'll give you a few sets of aligners at a time and will only need you to pop in for check-ups every 6-8 weeks. During a check-up, you'll get your next set of aligners and they will check your progress to ensure everything is going to plan.
Step 6 – Tweaking: As the end of your treatment draws near, sometimes your dentist will need to make some extra adjustments to ensure you get the best results possible. This is all included within the cost of your treatment and might involve things like making another mould of your teeth so a new set of aligners can be made to finish your transformation.
Step 7 – The Retainers: Once your Invisalign treatment has finished, you'll be given the option to have a fixed retainer behind your teeth which will permanently hold them in place. Your dentist will also take a new impression for removable retainers too This will be very similar to your Invisalign aligners, but you will only have to wear it at night every now and again to ensure that your new smile stays in place.
Invisalign is an amazing treatment that, not to be dramatic but, can really change lives. Having a smile that you're not afraid to show can change your whole outlook on life. If you're interested in hearing more, don't forget you can give us a call to book your no obligation FREE consultation. Just call 01460 77517