Hygienist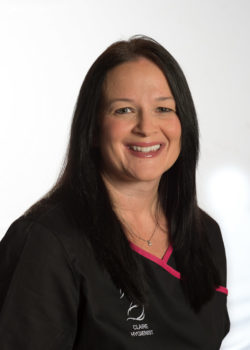 Claire Handscomb
Hygienist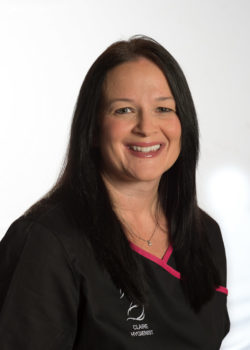 Claire Handscomb
Hygienist
Claire qualified in Dental Hygiene from the Eastman Dental Hospital in 2003 distinguishing herself by obtaining the Oral B Award for outstanding patient education and motivation.
As our longest serving hygienist her gentle and caring nature have ensured her a brilliant reputation with our patients. She is a dedicated professional who is always ready and willing go that extra mile.
With skills and experience that are recognized beyond the boundaries of the practice, Claire acts as an external examiner for the dental nurses national examinations.
With an outgoing friendly personality she gets on well with patients and fellow team members alike. Her free time is dedicated to her family, especially her 3 boys who keep her busy.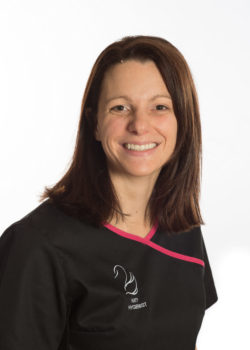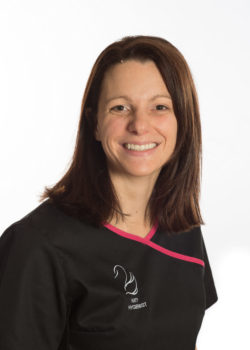 Katy Gordon
Hygienist
GDC 150907
Katy started her career in the Dentistry in 1997 when she worked as a dental nurse achieving her qualification in 1999. She expanded her experiences working for a number of practices in the South of England until 2003 when she joined the Royal Navy. Within just 18 months of service Katy was chosen from a large number of candidates to study to for her Diploma in Dental Hygiene at the Defence Dental School in Aldershot. After two years of study and training Katy qualified with a Diploma in Dental Hygiene, a certificate in diet and nutrition and a BTEC in oral health promotion.
Katy came on board Black Swan team in 2009 at the inception of the practice. In her role as head hygienist she has established a fantastic reputation amongst all of our patients. An extremely dedicated and important member of our team she is valued for her long-standing loyalty and dedication to the practice.
With a professional, calming and reassuring nature, which reflects her years of experience within Dentistry, her patients are made to feel at ease and settle into the warm and friendly atmosphere of her surgery instantly. As a popular and dedicated professional patients regularly praise her for ability to make them feel comfortable in her presence and are happy to revisit when needed.
'Working at the Black Swan means I am able to do my job to the best of my ability with such a fabulous team in support. It really is such a great place to work and I am so lucky to have the support and backing from everyone involved at the practice'.
Katy provides all aspects of hygiene treatment and expert advice reflecting the years of experience gained in both the worlds of civilian and military dentistry. A dedicated mum Katy enjoys spending time with her family at weekends and keeps herself fit by kickboxing, swimming and running.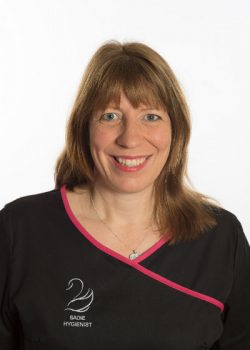 Sadie Hubbart Davey
Hygienist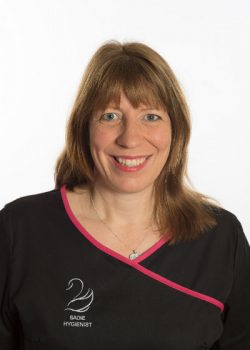 Sadie Hubbart Davey
Hygienist
GDC 4993
Sadie's path to becoming an integral part of the hygiene team at Black Swan was not entirely straightforward including spells as a trainee accountant and an au-pair to a family in Germany. Thankfully and for the benefit of her loyal and appreciative patients she discovered her true professional calling and qualified as a Dental Hygienist in 1995.
Everything we do at Black Swan has the control of dental disease at its heart and Sadie and her hygienist colleagues are at the heart of that philosophy.
With three children who range in age from 6 to 19, she is kept busy away from Black Swan but still finds time to indulge her passion for walking on Exmoor and playing badminton. Her recent acquisition of a 125cc motorbike means that she is looking forward to exploring the open road.